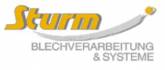 Sturm Blechverarbeitung & Systeme, GmbH
Industriestr. 10
Salching, Germany
About Company
Much more than just onlay sheet steel processing - high-tech laser sheet steel job order production We – the commited and competent team of the company Sturm Blechverarbeitung & Systeme – ensure guaranteed quality and precision for production and processing of laser cut and laser punched parts. We not only offer job order production of prototypes in large quantities, but are at the same time systems suppliers for punctual delivery of series components and complete component groups "just in time".
Production and sales programme
Performance scope Laser cutting and laser punching technique Welding Additional processing Stainless steel and special materials processing Complete assembly groups for manufacture of prototypes and complete series
Company representing Pictures
TOP
Equipment
TOP
CNC laser cutting

using 7 2-D laser cutting installations, one of them being a double-headed laser cutting installation. * Work range: 4000 x 2500 mm * Capacity: 6000 W * Cutting widths: e.g. steel up to 20 mm, * stainless steel up to 20 mm aluminium up to 12 mm * Special materials are processed on request * Cutting accuracy: up to +/- 0,1 mm

CNC laser punching operation:

on most modern installation: TruMatic 7000 * Work range: 3120 x 1660 mm * Capacity: 4000 W * max. punching power: 220 KN * max. punching diameter: 76,2 mm * max. sheet steel width: 8 mm * Positioning accuracy: +/- 0,1 mm High degree of automation due to automatic feeding and discharge as well as automatic residual grid disposal.

WIG, MIG or MAG welding - you can trust in our experience.

MIG/MAG-batch welding in our welding robot centre. Parts up to a length of 400 cm, a width of 160 cm and a height of 160 cm can be processed. The new CMT "Cold Metal Transfer" method requires only low heat supply and therefore ensures non warping welding without any weld spatters. This offers you the following benefits: Process safety - reliable, homogeneous quality up to the last seam Welding without any warping - quicker and more careful handling of the work piece by lifting and rotary tables. Cost-saving - minimum of downtimes by two cabins, which are operated alternately.
Company Information
Company name
Sturm Blechverarbeitung & Systeme
Legal form
GmbH
Company type
Manufacturer
Service

Country
Germany
PDF
Sturm Blechverarbeitung & Systeme on the Map