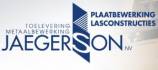 JAEGERSON, N.V.
Industriepark 27
Beernem, Belgium
Über die Firma
JAEGERSON has been active in the metals sector for more than half a century and has expanded to become one of the most significant suppliers of plate work and welding constructions. With our extensive and modern machinery we can offer you an entire gamut of products from laser work to welding constructions. We have, among others, laser cutting machines, a punch machine, bending benches, machining centre, welding robots, half automatons, spot welders, sawing machine,… JAEGERSON NV is strong in know-how and constantly strives for quality and flexibility against competitive prices.
Herstellungs- und Dienstleistungenprogramm
We produce lasered, punched, folded, welded and assembled mass-produced articles according to the customer's specification. Through our know-how and our modern machine park we can offer products at very competitive prices and with short delivery times.
Businessinteresse
Because of our expert knowledge JAEGERSON can count on both national and international customers. Together with our customers we look for the best solution in order to offer a product that satisfies ever increasing quality requirements and to do this against competitive prices!
Laser Cutting

Truflow 4000 with liftmaster, 4 KW, 3000 x 1500 mm Trumatic L3030 with liftmaster, 4 KW, 3000 x 1500 mm Trumatic L3030 with loading arm, 4 KW, 3000 x 1500 mm Helius, 2 KW, 2500 x 1250 mm

CNC Bending

Finnpower/Safan E-Break , 65 tonne, 2550 mm Finnpower/Safan E-Break, 40 tonne, 1600 mm LVD PPEB, 135 tonne, 3000 mm Haco PPES, 110 tonne, 2500 mm Haco PRM, 135 tonne, 3000 mm Haco ERM, 150 tonne, 3000 mm Haco PRM, 135 tonne, 4000 mm Trubend 5230 230 tonne, 4025 mm

Robotic Welding

Valk Welding Weld cells tot 1600 mm Valk Welding H-frame tot 3000 mm Valk Welding Robot line van 25 meter, met 5 cellen

Punching

Wiedemann Centrum-2500
Info über das Unternehmen
Name des Unternehmens
JAEGERSON
Rechtsform
N.V.
Typ des Unternehmens
Hersteller
Dientsleistungen

Staat
Belgium
PDF