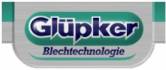 Glüpker Blechtechnologie, GmbH
Rudolf-Diesel-Str. 10
Neuenhaus, Germany
Über die Firma
Company portrait We have been dealing with sheet metal as a material since 1981. We have proven our expertise in issues of sheet metal processing and are continually expanding it. We produce for a wide range of companies in diverse sectors and have therefore amassed extensive production know-how. Modern machinery and optimised production sequences secure quality standards and the schedule effectiveness of our products. We machine a wide range of materials and can also further process them to complete products. Our company has been certified to DIN ISO 9001. This is confirmation of the quality standards we have achieved so far, and is for us a simultaneous obligation to continue doing everything in our power to offer and supply our customers with quality products and services. With the knowledge that a properly-working quality assurance system means more than simply implementing standards, we would like to assure you at this point that we are continuously working to improve our existing system.
Herstellungs- und Dienstleistungenprogramm
Our staff are qualified in all areas of sheet metal working, and are capable of implementing your requirements and solving your problems. They possess many years of professional experience and extensive knowledge which they would be pleased to make available to you as a client. We offer technical consultation and support. Please contact us to discuss your problems - we will surely be able to offer you a proposal. From individual production through specification drawings up to series production, from the idea up to complete production, from consultation to implementation, Glüpker Blechtechnologie GmbH is available with its entire production know-how.
Businessinteresse
If you want to reduce the production depth (lean production) of your company and outsource the manufacture of sheet metal products or sheet metal processing and are looking for a strong, reliable partner, then you should talk to us. If your capacities are stretched and you have delivery problems, we would be pleased to produce for your company on a contract basis. If you are looking for an expert partner for complete production to manufacture your sheet metal products, call us. Come and convince yourself of our effectiveness and expertise in all issues to do with sheet metalworking.
| | |
| --- | --- |
| Machinery Available modern machinery at Glüpker Blechtechnologie GmbH: 4 Trumatic TC L 3050 Laser 1500 x 3000 mm 3 Trumatic TrueLaser 5030 Laser 1500 x 3000 mm 1 Trumatic TC L 4030 Laser 2000 x 4000 mm 1 Trumatic TC L 3030 Laser 1500 x 3000 mm 3 Trumatic TC 5000 Punch 1500 x 3000 mm 2 Trumatic TruePunch 5000 Punch 1500 x 3000 mm 2 Beyeler press brake 3100-250 to with six axis robot 2 Beyeler press brake 3600-250 to with six axis robot 2 Hämmerle press brake 3100-225 to with six axis robot 2 Beyeler press brake 4100-320 to 1 Beyeler Xpert press brake 4100-320 to 1 Beyeler press brake 3600-140 to 1 Hämmerle press brake 3100-225 to 1 Beyeler press brake 700- 40 to 1 Safan press brake 1250- 25 to 1 Safan press brake 2050- 50 to 1 Safan press brake 4100- 200 to 1 hydraulic deep draw press Dieffenbacher Impress 400 slip bending machines till 3000 / 12 mm 17 Cloos robot welding machines 2 Severt robot welding machines welding machines till 500 A spot welding machines | |
Info über das Unternehmen
Name des Unternehmens
Glüpker Blechtechnologie
Rechtsform
GmbH
Typ des Unternehmens
Hersteller
Dientsleistungen
Berater

Staat
Germany
PDF
Qualifikation des Unternehmens
Quality Management System

DIN ISO 9001
Glüpker Blechtechnologie auf der Karte